http://georgetowneventcenter.com/wp-content/uploads/2015/06/20150516_111831.jpg]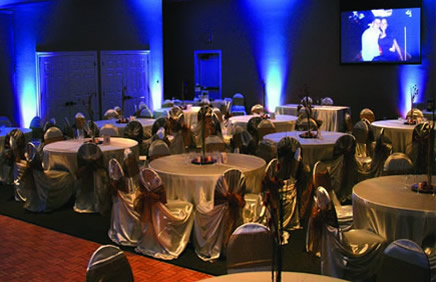 Voted "Best Events Center in Georgetown"!
Best of Georgetown Awards
Georgetown Event Center, part of the Georgetown Chamber of Commerce, gives you a tremendous amount of flexibility for your wedding, quinceanera or other parties, meeting, or special event at a very affordable rate.  Since both I-35 & TX-130 are nearby, the location is short drive from Austin, Hutto, Round Rock, and other surrounding communities.
Outside Catering Allowed.  Have a favorite restaurant or caterer that you want to use?  Want to bring in homemade food?  No problem.  Just pay a flat $25 food fee or use one of our preferred vendors and avoid this cost.  For all other vendors, you are welcome to use whomever you want without paying any additional fees.
Stay Past Midnight at No Cost.  A typical rental gives you access to the facility from 7am to Midnight (a 15 hour block).  If you want to stay later, then you can be here until 1am! If you'd like to stay longer, then an extra cost will be administered.
Bring Your Own Alcohol.  Bring in whatever alcohol you want so long as it is served by a TABC bartender.  A professional bartender isn't required, only someone that is certified.  For liability reasons, you will also need one security guard who charges $25/ hr and is arranged by Georgetown Event Center.
Indoor & Outdoor Wedding Ceremony Options.  Have your outdoor wedding ceremony at the flower garden or gazebo at San Gabriel Park.  Both are less than a half mile away and can be rented through the City of Georgetown (512-930-3595).  After your outdoor wedding ceremony, enjoy a fun and romantic wedding reception in an elegant, climate controlled banquet room.  If you prefer, we'll help you with the logistics of having both your wedding ceremony and wedding reception inside.
Complimentary Transportation. Best Western Plus Georgetown Inn & Suites offers free shuttle service from the hotel to the Georgetown Event Center to help make transportation easy on you and your out of town guests.
Google Virtual Tour of Georgetown Event Center:  
Use the white arrows that appear at the bottom center of the image to navigate around the banquet room.  Go through the doors to explore the lobby.
Schedule a Tour!
Tours are given M-F between 8 and 5pm. Saturday appointments are available by appointment. Please contact Dana Sanders at dana@georgetownchamber.org with questions or to schedule a time to see the facility.  The event center is perfect for weddings & receptions, Quinceañeras, fundraisers, meetings & corporate events.